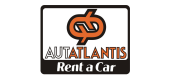 Autatlantis Rent a Car opened the first Office in April 1988 in Ponta Delgada, São Miguel Island.
Throughout the years and in a sustainable growth, but always updated to new technologies, has had as main goal the Quality, not only in is Fleet, but also in the Service for our Clients. This allowed Autatlantis to have undoubtedly a position of reference in the national and international Markets.
Our office network allows our Clients, in Island of the Azores, from Santa Maria to Flores to rent always a car from Autatlantis.
DEPARTURE
11 May 2009.
ELIGIBILITY
Rent-a-car at Autatlantis www.autatlantis.com and be a SATA IMAGINE member.
If you wish to become a SATA IMAGINE member, click here.
Information and Reservations
This can be done through Autatlantis Rent a Car Reservation's Center at http://www.autatlantis.com or any Autatlantis Office.
*not combinable with other promotions or existing protocols.
DESTINATION
Win more miles to help you achieve your preferred SATA flight award faster.
The following benefits are applied:
250 miles / per rental (minimum 2 days)*
500 miles / per rental if equal to or greater than 6 days*
We will credit the miles in your SATA IMAGINE account in the following month of the renting.
At the moment, there are no active campaigns.