If you want an enriching trip, which you will never forget, the Azores are your destination.
These islands located in the middle of the Atlantic Ocean have a certain mystique due to its idyllic landscapes. Due to the past isolation of the archipelago and the different cultures and nationalities of its settlers, the Azorean islands have a rich cultural diversity, which makes each island a new world waiting to be explored. In the Azores you will find landscapes of unparalleled beauty, monuments carved in stone expelled by volcanoes, museums that will take you back in time, animals unique in the world, a gastronomy stuffed of intense flavors and people who will receive you with arms wide open. All the necessary ingredients for a dream trip.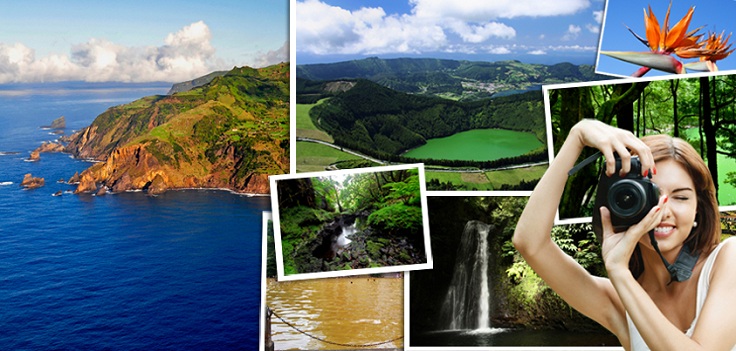 | | | |
| --- | --- | --- |
| Population  |  246 746 (2011) | Language  |  Portuguese | Currency  |  Euro € |
| Country  |  Portugal | Area  |  2 333 km2 | Time zone  |  UTC-1 |
How to arrive
---
If you want to revisit your family and friends, Azores Airlines offers flights to the Azores from Toronto, throughout the year, and from Montreal between the months of July and August. Regarding the United States, Azores Airlines offers flights from Boston during whole year and from Oakland from June to September.
Azores Airlines also offers trips to the Azores from major European cities. With flights to the Azores from Arlanda, Copenhagen, London, Amsterdam, Paris, Frankfurt, Munich and Gran Canaria, you will now have the opportunity to experience the magnificent Azorean archipelago.
You can also, from Faro, Lisbon, Porto and Funchal spend a great family holiday in Azorean soil by simply flying to the Azores.
To easily and quickly get your ticket, simply fill out the booking form (at the top) with your data and choose the dates that best suit your convenience.